Sunday Service
at 10:30am
FAcebook live-Sundays @ 10:30am
new life
new friends
new purpose
New Joy is a family friendly group of individuals who seek to find new life, new friends, and new purpose through following Jesus.
Our lives are fully found in Christ. Our friends come along side us in our spiritual journey. Our purpose is simple and transforming: to love God, love others, and make an impact in our community.
No matter what experience you've had with church, or out in the "real world," we know you'll feel welcomed here!
New Joy hosts many opportunities for you to learn, serve, meet new friends, and have fun!
Before Jesus ascended into heaven, he gave his apostles specific mission he wanted them to accomplish. Today we call it the "Great Commission". It kept the early church focused and full of purpose. Today, very few Christians understand what it means and with the pandemic, it has become somewhat lost in all that has happened. Here at New Joy, we plan to rediscover this important mission Jesus gave to his church. What does it mean today to be "On mission with God"? We invite you to gather with us and rediscover God's unchanging purposes this January.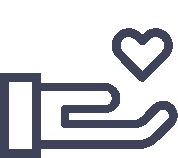 "May the God of hope fill you with all joy and peace as you trust in him, so that you may overflow with hope by the power of the Holy Spirit."