new life
new friends
new purpose
New Joy is a family friendly group of individuals who seek to find new life, new friends, and new purpose through following Jesus.
Our lives are fully found in Christ. Our friends come along side us in our spiritual journey. Our purpose is simple and transforming: to love God, love others, and make an impact in our community.
No matter what experience you've had with church, or out in the "real world," we know you'll feel welcomed here!
New Joy hosts many opportunities for you to learn, serve, meet new friends, and have fun!
Who is my neighbor? This question was asked to Jesus by someone who didn't really want to get involved. Apathy and self-centered living is common these days. We keep people at arms length to avoid getting sucked into their problems or to avoid getting hurt. This month we want to break out of all that and see where God will lead us. Maybe is it the person next door, maybe someone else. Join us in September as we ask, "Who is my neighbor?"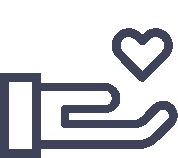 "May the God of hope fill you with all joy and peace as you trust in him, so that you may overflow with hope by the power of the Holy Spirit."