Sunday Service
at 10:30am
FAcebook live-Sundays @ 10:30am
new life
new friends
new purpose
New Joy is a family friendly group of individuals who seek to find new life, new friends, and new purpose through following Jesus.
Our lives are fully found in Christ. Our friends come along side us in our spiritual journey. Our purpose is simple and transforming: to love God, love others, and make an impact in our community.
No matter what experience you've had with church, or out in the "real world," we know you'll feel welcomed here!
New Joy hosts many opportunities for you to learn, serve, meet new friends, and have fun!
There seems to be an app for everything. We have apps for our mobile phones, appliances, computers in our car, hotel reservations - you name it! With the explosion in technology in the last 20 years, we need apps to know how something works properly. Applications are a vital part of everyday life. But what about our relationship with God? Is there an app for that? I'm not just talking about having a bible app (although those are great), but a way of applying God's truth to our life with the Lord Jesus? This month we will be looking at some important applications from scripture that will help us in our spiritual journey. Join us at New Joy as we explore "Applications".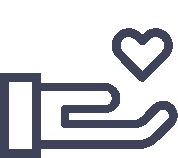 "May the God of hope fill you with all joy and peace as you trust in him, so that you may overflow with hope by the power of the Holy Spirit."