Sunday Services at 9:00am & 10:30am
​
new life
new friends
new purpose
New Joy is a family friendly group of individuals who seek to find new life, new friends, and new purpose through following Jesus.
Our lives are fully found in Christ. Our friends come along side us in our spiritual journey. Our purpose is simple and transforming: to love God, love others, and make an impact in our community.
No matter what experience you've had with church, or out in the "real world," we know you'll feel welcomed here!
New Joy hosts many opportunities for you to learn, serve, meet new friends, and have fun!
What comes to your mind when you think of authority? Lording it over someone else? Control? Manipulation? Discrimination? These are all very realistic possibilities - in a worst case scenario. But what about the idea of protection? What if the purpose of authority is all about protection? Would that make it easier to understand? Wherever our lives intersect with daily life we always encounter authority. This month we are looking at God's design/purpose with authority in three main areas: Government, Church and Family. We will be looking at God's original design and biblical limits in this often difficult and controversial area. Join us and allow God to speak to you on this important topic.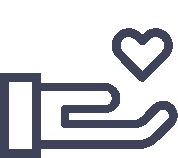 "May the God of hope fill you with all joy and peace as you trust in him, so that you may overflow with hope by the power of the Holy Spirit."